If you would like to buy your own materials, below are the technical specifications of the equipment to ensure you buy the right materials.
If you're not sure what to buy, feel free to check with sofie@m-sparc.com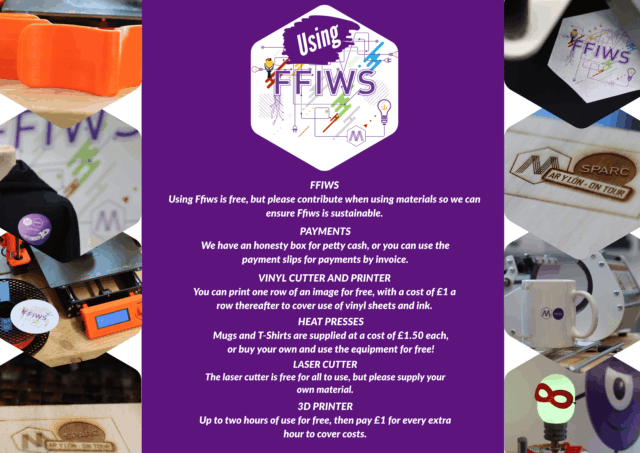 ARC Multi Function Mug Press (image included again)

Suitable for 10oz and 11oz mugs. You need to buy sublimation mugs, ordinary mugs won't take the ink. Sublimation mugs have a polymer coating in which the ink will embed.
An example of the type of mugs to buy here
The mugs are safe to put in the dishwasher up to 45 degrees Celsius.
To print the images you will need to use the sublimation printer available in Ffiws, along with the compatible sublimation paper and ink. There is no need to buy your own paper and ink, but for bulk printing please speak with a member of the staff at your local Ffiws beforehand.
Original Prusa i3 MK3S 3D printer (image again).
Filament is available in each Ffiws and you can contribute towards the cost when using it. We have PLA and PETG material filament - this is the easiest type of filament to use and is suitable for most 3D printing.
If you would like to buy a filament yourself, compatible filament can be found here
We do not recommend using FLEX, as it can clog the nozzle.
You can put a number of different materials into the laser - including wood, acrylic, and slate!
This is where you will find out what materials are suitable, and remember to avoid any prohibited material (link to the prohibited materials document again)
Vinyl Print and Cut Machine
This machine is to cut vinyl, for transferring to a host of materials, including clothing. This machine only cuts one colour at a time. Vinyl is available in Ffiws for you to use; if you'd like to bring your own the Roland website offers the technical specifications https://www.rolanddg.co.uk/pro...;
The machine works with a range of materials: wood, plastic, and aluminium are no problem.
Cutting carbon fibre, PCBs, and steel is also possible with a little extra preparation and precaution.
Please supply your own materials for the CNC, and check with the Ffiws workshops that offer this machine if unsure.
Sublimation printers are available in Ffiws in order to print designs for mugs and other sublimation-compatible materials. The correct paper and ink is also available. You do not need to bring your own but if you want to use the machine for a large print run, please contact your local Ffiws in advance.
Each Ffiws has free to use laptops with all the required software for designing o 3D modelling / slicing. You can bring your own laptop / designs or models saved to pen drives if you have designs ready to transfer to the machines.